The following re-post was written by Daniel X. O'Neil of The Smart Chicago Collaborative. It captured all the awesomeness of the Open311 launch in Chicago so well that it deserved to be re-posted here. The original post can be found at http://www.smartchicagocollaborative.org/the-launch-of-open311-in-chicago/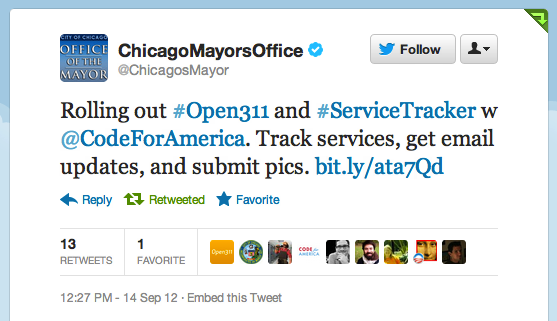 This afternoon the Mayor's Office released two new resources for the people of Chicago:
Rolling out #Open311 and #ServiceTracker w @codeforamerica. Track services, get email updates, and submit pics. bit.ly/ata7Qd

— ChicagoMayorsOffice (@ChicagosMayor) September 14, 2012
The Smart Chicago Collaborative helped write the application for Chicago to become a Code for America city focused on complying with the Open311 standard, and we have funded this project from the start.  John Tolva, Chicago CTO and Smart Chicago Advisory Committee member, has been deeply supportive of the project and has shepherded it through to completion. Chicago Chief Data Officer and Commissioner of the Department of Innovation and Technology (DoIT) Brett Goldstein, along with Director Danielle DuMerer, has been instrumental in getting this project done, as were others at DoIT and people at Motorola Solutions and Connected Bits. Audrey Mathis, Director of 311 Services, has been great to work with as well.
None of this would be possible without Code for America, the ground-breaking organization founded and led by Jennifer Pahlka. The amount of work achieved under this grant is kind of stunning:
The Chicago Code for America fellows— Jesse Bounds, Angel Kittiyachavalit, Ben Sheldon, and Rob Brackett deserve a ton of credit for drilling down into a set of tools that make sense for the particularities of Chicago while being broadly useful as reusable code for other municipalities. They moved the 311 movement forward in ways that will be felt for years to come. They are technically top-notch, excellent communicators, and real-deal project managers, all of them. They listened to our needs and were able understand the unique technology setup that lied beneath a simple desire to see the current status of a pending service request.
So get out there and track your favorite service request:
Elsewhere:
Online system to track 311 calls
By Fran Spielman, City Hall Reporter for the Chicago Sun-Times, September 14, 2012
The technology upgrade will make the process of calling 311 to get a pothole filled, a tree trimmed or a broken streetlight replaced like using FedEx to send a package, under the plan, first disclosed by the Chicago Sun-Times last spring.